With this exceptional new strain we are building upon our successful breeding lines to offer growers an indica that combines the best of many traits. Hashberry is the unique result from a rigorous selection of desirable parents, with special attention paid to preserve the hybrid vigor our strains are so valued for. This indica will grow to a medium height and is a good choice where space matters and excellent plant for sea of green. Hashberry develops a tight and heavy head bud with dense buds located on her firm side shoots. You will notice that many plants cover the bud leaves with a coat of THC glands and these will fill your pollinator/bubble bags generously. This strain still remains easy to manicure, and the dried buds have great "bag appeal". The buds reveal a refreshing fruity-floral scent during the flowering period. After proper drying and maturation their fragrance transforms into a delicious hashy-berry like aroma. Hashberry not only has hybrid vigor, but is also very heat resistant and easy to grow. We recommend keeping humidity levels and watering low during the last 2 weeks of flowering to prevent any mold in the compact top buds.

| | |
| --- | --- |
| Indoor / Outdoor: | Suitable for indoor and outdoor growing (up to 45° latitude, balcony, greenhouse) |
| Plant Type: | Mostly Indica |
| Stoned or High: | The classic chill-out weed, an expansive indica stone with a powerful high that sets in with the first lungfull of smoke, the buzz is first light-headed and very balanced before switching to a stronger narcotic phase towards the end of your flight. |
| Flowering Weeks: | 8-9 |
| Yield: | 400-450 gr/m2 (dry weight) |
| Harvest Month: | Sep to 1st week Oct |
| Contains land race genetics from: | North India (Kashmir) |


Bud picture of the Hashberry weed strain produced by seed breeder Mandala Seeds

From £19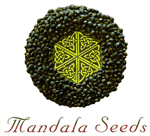 Click on the star above for more details on our free cannabis seeds offer...







Click here for our discrete Weed Seeds payment methods...





Always fast delivery with Weed-Seeds.net. Click here for more information on delivery...



All seeds are sent in very discreet packaging. Click here for more information on packaging...